Students, employers to connect at annual Hamilton Employment Crawl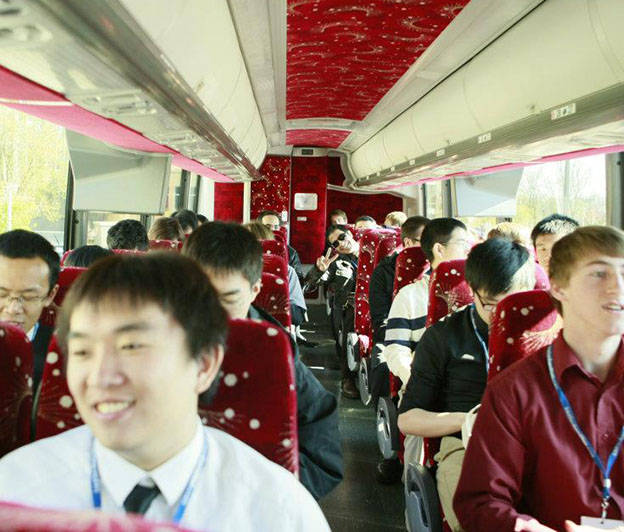 Students and recent grads will tour Hamilton this week in a unique event meant to showcase the city's employment landscape.
---
Students and recent grads will tour Hamilton this week in a unique event meant to showcase the city's employment landscape.
The second Hamilton Employment Crawl, organized by McMaster's Student Success Centre, will take place May 1 and 2.
The crawl's first day will include employers in the manufacturing, clean air and technology fields as well as the creative industries. They include ArcelorMittal Dofasco, Orlick Industries, the Hamilton Spectator and the Art Gallery of Hamilton.
The second day will spotlight employers in food processing, transportation, life sciences and health care, such as McKeil Marine, the Hamilton Port Authority, Stryker Canada and Hamilton Health Sciences' Cardiovascular Research Institute.
The event offers students the opportunity to meet with potential employers and get a better understanding of Hamilton's job market.
"I am so glad I participated in last year's crawl," says Rebecca Lapple, a graduate of McMaster's sociology program. "It was a great opportunity to get to know our city better and get a glimpse at some of the countless employment opportunities available for new grads."
A transplant to Hamilton, Lapple says she fell in love with the city and decided to stay after graduation. "The Hamilton Employment Crawl played an important role in my job search by showing me that you really can do anything in Hamilton."
Alumni working locally will also help students discover the many jobs available in the Hamilton area.
"With a number of McMaster alumni on staff, we are proud to participate in the Hamilton Employment Crawl and introduce Hamilton opportunities to graduating McMaster students," says Mark Stewart, director of commercial activities at the Art Gallery of Hamilton and president of the McMaster Alumni Association. "The creative sector offers a number of traditional and non-traditional career paths many of which are an excellent fit for the diverse skill-sets students acquire at McMaster."
All students participating in the crawl are invited to attend a networking event with participating employers, young professionals and McMaster alumni at the Scottish Rite Club on May 1 from 5:30 p.m. to 7:30 p.m. The alumni association-sponsored event will provide beverages and light fare.
Details on the Hamilton Employment Crawl can be found here.