Riding the rails with Steve Sammut, head of Rocky Mountaineer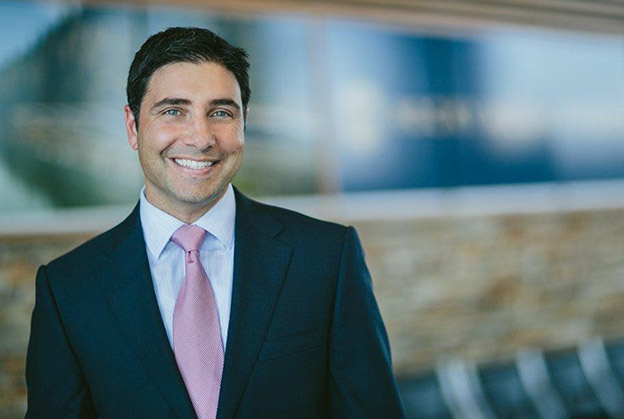 Steve Sammut, who earned an MBA from DeGroote in 1995, joined Rocky Mountaineer in 2012 and has been sitting in the President's chair for a little over three months. Rocky Mountaineer is one of the world's most luxurious and renowned rail companies.
---
Steve Sammut knows all about the charming appeal of train travel, and he certainly should.
Since December, Sammut has been tasked with leading one of the world's most luxurious and renowned rail companies, Rocky Mountaineer. Founded in 1990, the company operates four distinctive routes through British Columbia, Alberta and Washington, and is known for offering breathtaking views of the rugged backcountry through its rail cars' custom-made domed glass ceilings. It's the largest privately-owned luxury tourist train company in the world, and has welcomed more than 1.7 million guests from the furthest corners of the globe. To put things in perspective, more than 80 per cent of Rocky Mountaineer riders come from outside the country. It's a Canadian tourism magnet.
Sammut, who lives in Vancouver with his wife Sheri and the couple's two sons, earned a DeGroote MBA in 1995. He began his professional career at CIBC World Markets before being lured to the Pacific coast to join resort juggernaut Intrawest in the fall of 1999. He spent more than a decade with that organization [leaving as Chief Financial Officer, Real Estate, in 2010], followed by a two-year stint as Chief Financial Officer at Intracorp Projects Ltd. He's been with Rocky Mountaineer since 2012, and has been sitting in the President's chair for a little over three months.
Can you explain the enduring appeal of traveling by rail? How has it survived and thrived alongside other modes of transportation?
I think it just takes people back to a simpler time. There's something magical about it. In Canada, there's still a lot of romanticism surrounding the Last Spike of the Canadian Pacific Railway [1885] and the race to ensure British Columbia would become a part of our country, not the United States. The history is fascinating. It's also a much more relaxed mode of travel – the sway of the trains going back and forth, the clickity-clack of the rails underneath. It allows us to sit back, relax, imagine the past and connect with travel companions and new friends on board.
You've been in your current role since December. What is your primary goal or objective for the near future?
Our company mission is to create life-changing experiences for guests. But at the end of the day, the primary goal for me involves hiring, engaging and retaining good people. We've been growing the company at a healthy pace over the past few years, and we've got a plan in place for the next four years to double in size. There are a lot of elements involved, including continuing to build our brand awareness through marketing and to maintain our focus on the heart of our business – an incredible guest experience. Our guest experience scores are among the best in the entire global tourism industry, but we're always striving to improve.
You spent nearly a decade at Intrawest before transitioning to Rocky Mountaineer. Was there something you learned at the former that has stuck with you?
A strong plan is important, and you can have the best plan in the world, but if you don't have the talent in your workforce to execute it the plan isn't worth the paper it's written on. I was surrounded by a lot of passionate and driven people at Intrawest, and that was the key to our massive growth. Now I'm always looking to add new passionate and committed talent at Rocky Mountaineer as we quickly grow and expand. Having the right team is crucial for me.
Let's step back in time for a moment. You graduated from McMaster in 1995 – what are some of your fondest memories from your time on campus?
The courses were interesting, and I remember having some excellent professors. But my fondest memories were from outside the classroom – meeting up with friends and classmates from the MBA class at The Phoenix or The Downstairs John, or going out together for an evening downtown. I also recall cramming with friends for big tests and working through the night on various group assignments. Those are all great memories.
What would you say was the greatest takeaway from your time at McMaster?
One of the best things I ever did was completing an exchange overseas. I went to Manchester Business School in the fall of 1994, and it was an amazing experience. To attend school and live in England while studying with 100 exchange students from around the world gave me a global outlook on business. Working in a groups with members from Mexico, Japan, Germany and maybe somebody from Sweden, you realize the cultural differences that exist when it comes to doing international business. When I came back to Canada, I felt like my eyes had been opened in so many ways. That was definitely one of the highlights of my postgraduate education.
Convocation is only a few months away. Do you have any career advice for upcoming graduates?
Dream big and follow your passion. Do something that inspires you and has meaning for you. You're likely to spend a lot of hours working – too many to not enjoy what you do for a living. Your chances of being successful are going to be a lot higher if you love your work.