President's Corridor adds some local colour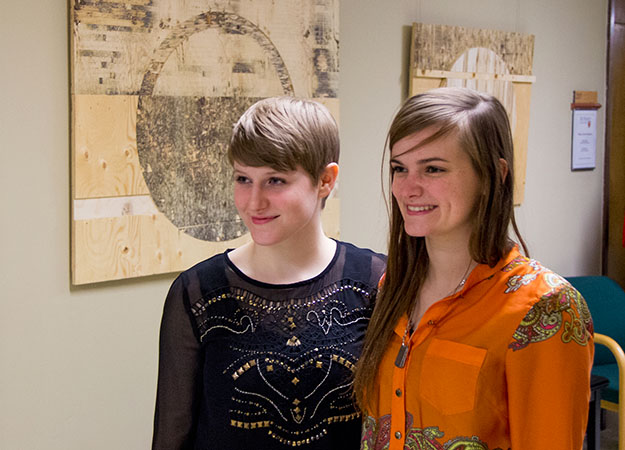 Photo Credit: Colin Czerneda
Studio Art majors Simone Sciascetti and Kaylyn Roloson are the latest exhibitors in the prominent Gilmour Hall locale.
---
As developing artists, Kaylyn Roloson and Simone Sciascetti want to showcase their craft in the most prominent settings on campus. The President's Corridor certainly fits the bill.
Throughout the winter term, the pair of Studio Art majors will have their work on display outside President Patrick Deane's Gilmour Hall office. For Roloson, the chance to exhibit anywhere on campus is a personal thrill.
"It feels good. I want people to be able to see what I do," says the 21-year-old, whose art reflects the serene rural imagery surrounding her family cottage in Parry Sound, Ont."It's a good experience to have your work in a professional environment."
Describing her latest series as "metal paintings" – several involve a mixture of sheet metal, plexi glass, acrylic and gel – Roloson tries to extend the traditional boundaries of canvas and frame with her warm and inviting light boxes. "I really enjoy working with metal and welding, because it's kind of an exhausting process and I really like to push myself," she says.
Sciascetti, a 22-year-old originally from the small community of Wilsonville, Ont., began experimenting with the unconventional medium of plywood during her second year at McMaster.
"I take back the layers of the plywood to reveal different hues and textures, and to see what different shapes and forms I can make from that," she explains. Several of her latest "sculptural paintings" line the east wall of the Corridor.
Associate professor of Art Judy Major-Girardin says the overall goal of the exhibit is to highlight the Studio Art graduating class of 2013. The number of participants was reduced to two, however, so each artist could show a much larger body of work. Sciascetti and Roloson were selected due to their unique textured relief surfaces, highly-stylized imagery and the physically demanding nature of their processes.
"This is a prime space on campus, because so many people come and go from the President's Office," says Major-Girardin. "(Patrick) has been an excellent promoter of the arts, and he's been great with the students in terms of encouraging their artistic endeavours."
Both students' artwork will be on display until April. Fellow students, faculty and staff are welcome to view the exhibition, located on the second floor of Gilmour Hall outside GH-238.