PM helps surprised student move into residence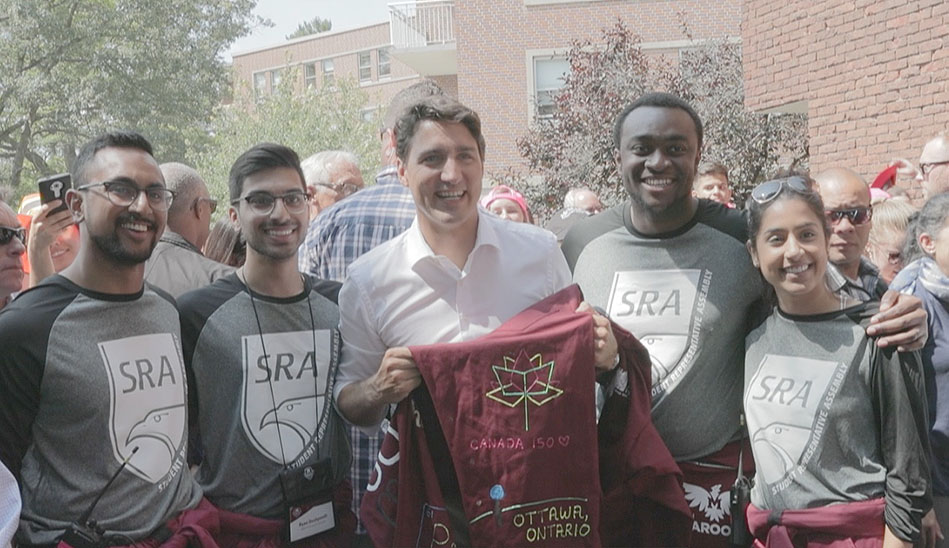 Some of North America's top experts in memory and learning gathered at McMaster recently for the fifth annual McMaster Symposium on Education and Cognition.
---
Prime Minister Justin Trudeau dropped by campus on Saturday to chat with students, meet with President Patrick Deane and help one very surprised first-year student move into her residence room.
Trudeau – who was joined by area MPs Filomena Tassi and Bob Bratina – shook hands and took pictures with students as he walked through campus, before lending a hand with a student's move into McKay Hall.
The Prime Minister carried some boxes into the building and toured part of the residence.  Students spontaneously broke into song singing Oh Canada.
The visit created quite a stir on campus, with many students excitedly taking to social media to talk about their unique first day on campus.
"Soooo what are the odds that Justin Trudeau chooses to visit McMaster on the day I move in…and decides to help unpack my car," tweeted @shannonakenny.
"Been @McMasterU for 3 hours and have already met @JustinTrudeau," tweeted @Sarah_goodall9.
"So pumped to move in tomorrow," tweeted @scottterdelyi.
Welcome Week activities continue throughout the week, with the first day of classes scheduled for Tuesday, September 5.