Phone app streamlines your healthcare information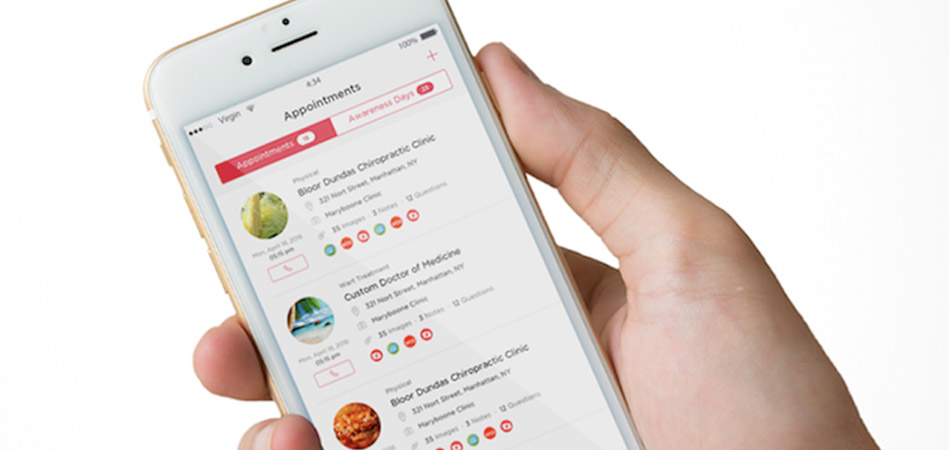 Hal Cal is a personal health and wellness mobile app with a public health component. It will streamline health care appointments, secure data storage and transfer, and patient advocacy for people who want to show a timeline of symptoms.
---
In celebration of International Women's Day McMaster is featuring tech companies run by women who operate at The Forge, Hamilton's startup incubator and McMaster University's entrepreneurship initiative.
Meet Lidia Sienkowska, Founder and CEO of Hal Cal
Q. Overview of Hal Cal
Hal Cal is a personal health and wellness mobile app with a public health twist. There are three parts to it; appointment management, a personal health record (PHR), and public health content. The purpose of Hal Cal is to empower consumer to be actively involved in managing their care, including prevention. It's also a patient advocacy tool, and a great way to manage appointments and personal health information for the entire family.
Hal Cal is different because we are the only application to bring together appointment management, public health content personalization, and a consumer PHR all under one roof. Through the app we can push public domain health information to the user based on their profile, this could also include reminders for various health screenings. The tool is 100% consumer driven.
Q. What feedback have you gotten about this technology?
Everyone has a different use-case for it – we've certainly seen a wide range. We are currently targeting parents and individuals who are co-parenting, individuals who are managing one or more complex or chronic health conditions, adult children who together coordinate care on behalf of their elderly parents, and those individuals who are interested in maintaining a healthy lifestyle. There are different parts of the app that appeal to different user segments. The point is that we are building value for everyone who uses our app, regardless of which segment they fall under.
Q. What motivated the launch of Hal Cal?
I had a health issue arise while I was travelling in the US and I wanted to see a doctor, but I didn't have any record of the re-curring issue – not a single photo, note, or timeline of how many appointments I attended pertaining to this issue. This initially sparked the idea behind Hal Cal and led to other ideas such as incorporating the PHR and public health content engine. I did the research and I didn't find anything that would have solved my problem specifically, so I decided to go out there and build it. Different people have different use cases for the app. For example, the app is useful to me because of the PHR and public health content, however, my co-founder Kathleen sees more value in the appointment manager because she is responsible for taking her elderly mother to her health appointments.
I initially reached out to Kathleen sometime in 2014, we met up and spoke about what we would change about health care products, health care software, how it affects people, outcomes, cost, etc. We hit it off and she became an advisor for the company. We needed a back-end engineer and so she migrated to the role of equal founder and lead back-end architect.
Q. Benefits or challenges of being your own boss?
A challenge is being accountable to yourself and knowing you're the end of the line. You're taking on the good and the bad, and the risks when it comes to starting your own business or company. Time management can be a challenge and jumping on opportunities in a timely manner is important. Our team is comprised of myself and Kathleen and two advisors and designers who work with us. We're also currently working with a DeGroote MBA student as part of the Synapse Life Sciences Competition. A huge benefit is also having the creative freedom to shape your product, company culture, and operations. There's something very powerful and meaningful about that when it comes to leaving your dent in the universe at the end of it all.   
Q. Advice for other women or advice about starting your own business?
When you undertake starting your own business the first thing to do is really examine your own personal finances and think about your readiness to take on a new business. Learn how you're going to manage your own lifestyle and expenses while building the business. Plan out the first year or two and assess if you can support yourself and take on loans from banks. Be realistic about finances.
Seek out mentors early and have productive conversations. Ask about using them as a resource; when you ask nicely and respect their time they're more likely to help you with your personal and professional development.
Do experiments. If you have no experience in sales; bake some cookies and go door to door selling them. Seriously. Make mental notes of what works; is it when you smile, crack a joke, telling the story of how the cookies were made, etc. So small, simple projects that test your entrepreneurship skills. Then you can gage yourself on your passion towards sales, customer relationship management, and building product and building a business and if you have a drive for it.