New Wilson Leaders bring diverse set of skills to elite leadership program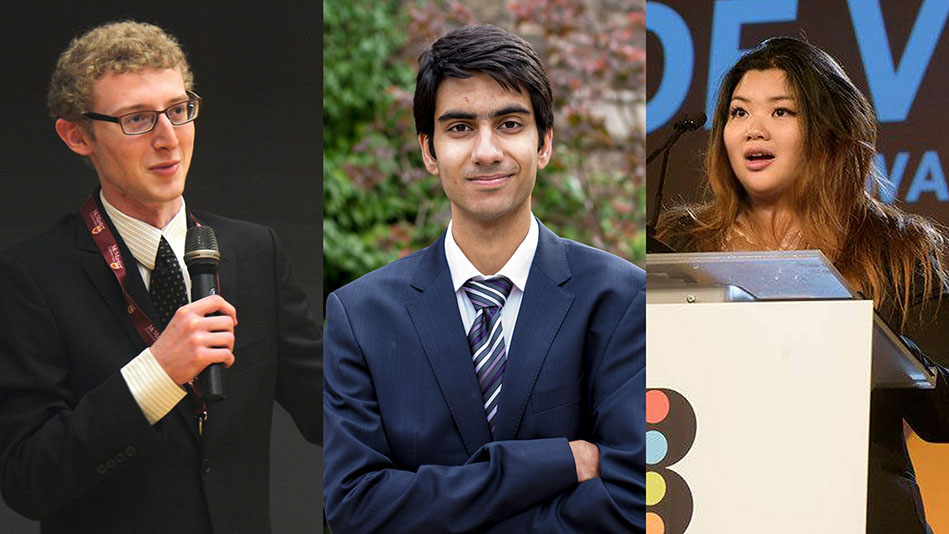 Joshua Young, Monish Ahluwalia and Alyssia Jovellanos have been named this year's Wilson Leadership Scholar Award winners.
---
A young scientist with a love for the arts. A software engineer and entrepreneur. An aspiring finance pro with an interest in geopolitics.
Three McMaster students with a diverse set of skills and interests have been named recipients of the Wilson Leadership Scholar Award, meant to recognize students who demonstrate exceptional promise and potential.
Integrated Science student Monish Ahluwalia, Computer Science student Alyssia Jovellanos and Commerce student Joshua Young were selected for the Award, which includes $50,000 to cover education costs over two years along with admission to an elite leadership development program.
The Wilson Leadership Scholar Award is among the highest value undergraduate scholarships in the country.
"These are some of McMaster's most outstanding young leaders," says Sean Van Koughnett, Associate Vice-President, Students and Learning and Dean of Students. "Their love of learning and commitment to societal wellbeing embody the core values of the Wilson Leadership Scholar Award. I can't wait to see how they evolve and grow as leaders while in this program."
Ahluwalia is active with McMaster's Model United Nations and plays bass guitar with the McMaster Pops orchestra. He has also worked on case competition projects aimed at discovering Zika-fighting drugs, is a member of the Improv Club and volunteers with Habitat for Humanity.
Jovellanos is heading to Silicon Valley, where she'll spend the summer interning at Intuit, working as a software engineering intern in security on Quickbooks. As the sole proprietor of her own business, she raised $8,000 in start-up funds from Ontario's student business program as well as the Future Dragons fund, and has won several hackathons with projects in augmented reality, image recognition and lecture transcription.
Young served as Under-Secretary-General of Finance with the McMaster Model United Nations this year. He has competed in an international marketing case competition, represented Qatar at the McMaster Model United Nations debate and is minoring in Law and Philosophy.
The three students join Kylie Hopkins, Yung Lee and Andrew Richards, who are entering their second year as Wilson Leaders.
The Wilson Leadership Scholar Award is offered by the Wilson Foundation and proudly hosted at McMaster. More information can be found at www.wilsonleader.ca.