PM chooses Mac students for budget day meeting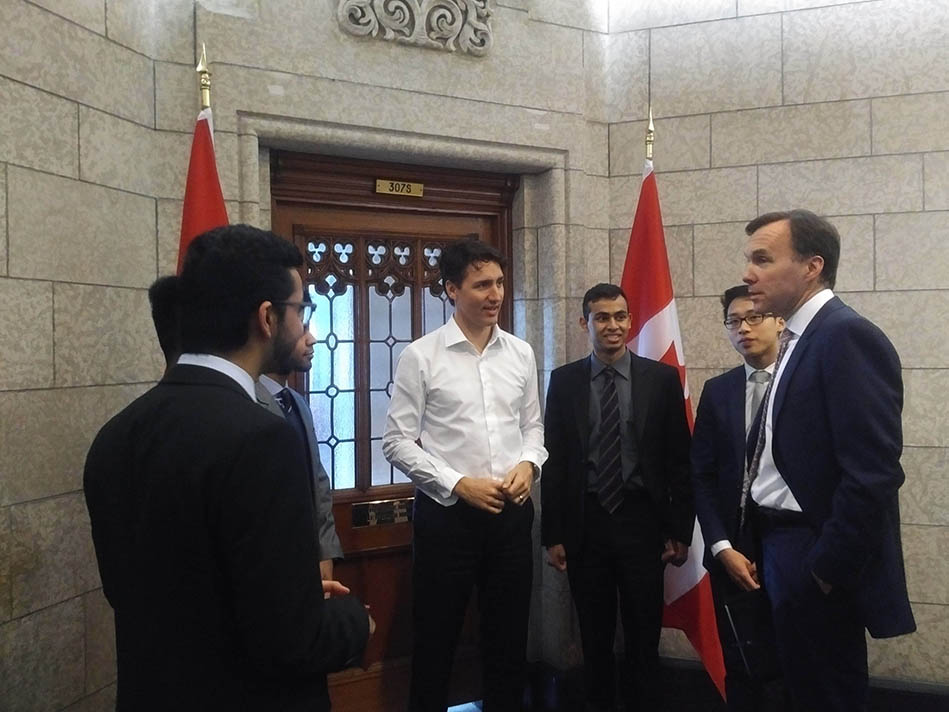 ---
Prime Minister Justin Trudeau spent part of budget day meeting with a group of McMaster students, winners of a national competition organized by the federal government.
Just a few hours from unveiling their government's fiscal plans, the PM and Federal finance minister Bill Morneau hosted Health Sciences students Krish Bilimoria, Ramachandiran Sethuraman, Matthew Yau and Shangmou Wu and Commerce student Raj Jain on Parliament Hill. 
The group are winners of the first Minister of Finance's Post-Secondary Policy Forum.
The students answered the minister's call for policy ideas that address inclusive growth with a two-pronged plan calling for the expansion of Employment Insurance and the revamping of the country's retraining program.
The team was invited to present their proposal to a panel of Finance Canada judges earlier this year. The judges evaluated finalists from across the country before naming the McMaster students winners.
The competition was meant to spark an interest in policy development amongst Canada's students. Ideas presented as part of the forum will not be included in the budget.
"Your proposal to reform and modernize Employment Insurance to meet the needs of the modern labour force was bold and innovative, and addressed an issue that touches many Canadians," wrote Minister Bill Morneau in a letter to the students. "Your clear and convincing presentation demonstrated a strong understanding of the policy development process. You should be very proud to be named the winners among this competition."
As winners of the competition, the students will travel to Ottawa to take part in Budget 2017 activities, including the Minister's speech in the House of Commons and the following reception.
You can follow their activities on Parliament Hill March 22, when they take over McMaster's official Snapchat account (@McMasterU).