Megan MacLeod wants to help local families Warm Up for Winter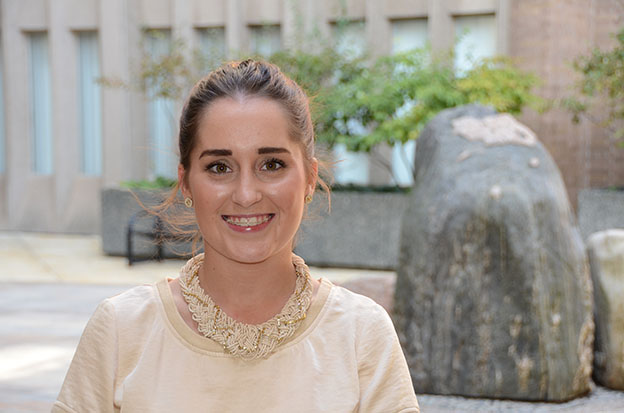 Fourth-year student organized the annual clothing drive three years ago, and shows no signs of slowing down.
---
For a third-consecutive year, Megan MacLeod is donating her time, money and personal living space to a clothing drive she founded that has collected nearly 4,000 articles of winter accessories for Hamilton families.
MacLeod, a fourth-year Health, Aging and Society student, founded the Warm up for Winter drive after volunteering at the City of Hamilton-operated Norman Pinky Lewis Recreation Centre.
"During my time at Pinky Lewis, I saw there was a need in the community for winter clothing," says MacLeod. "The clothing drive is for whoever needs a winter coat or winter accessories. There are no restrictions in this program."
By the way MacLeod talks, it seems as if she isn't even restricting the amount of her own time that is put towards the drive. Nearly 1,000 items were donated in the first year of the drive, which involved transporting donations with a U-Haul truck MacLeod rented her own expense. In only its second year, the drive saw nearly 3,000 items donated.
Donations for this year's drive started coming in immediately after last year's drive wrapped up. There are also donation boxes set up in stores around Hamilton, and MacLeod (who is also a teacher's assistant) is accepting donations during her office hours, which are from 1-2 p.m. on Tuesdays in KTH 206.
"This year, stores have actually contacted me asking for donation boxes," says MacLeod, who will be driving around to collect the clothing herself.
After being picked up, thousands of donated items are stored at MacLeod's house, which she shares with her parents. The MacLeod family then will clear out their garage so all items can be sorted according to size as the event date nears. The sorted items are then stored in the family's house until the Friday, Oct. 19 community event at the Norman Pinky Lewis Recreation Centre.
MacLeod is now a bit of a veteran when it comes to clothing drives. She also founded Glitz, Glamour and Graduation – a two-day event that supplied prom dresses and attire to local Grade 8's along with hair and make-up services. Prior to this, MacLeod collected 4,000 pairs of shoes for the Feet for Haiti campaign, which was formed after the 2010 earthquake.
"I had a goal of 200 pairs of shoes, but they just kept coming," says MacLeod. "Our living room and every hallway had piles of boxes filed with shoes."
While no goal has been set for the 2012 Warm up for Winter campaign, MacLeod believes she will collect more items than last year's drive, and is excited to announce that Burlington stores Once Upon a Child and Plato's Closet have donated some high-quality fashionable children's wear.
"The kids are really into style and want what's cool, so it's great to get donations like that," says MacLeod, who also personally went out at end-of-year sales last year to buy new winter accessories to give out at the drive.
Donations will be accepted until Oct. 14, and members of the community can choose from the donated items from 12-5 p.m. on Friday, Oct. 19 at the Norman Pinky Lewis Recreation Centre. For more information on Warm up for Winter, contact Megan MacLeod at 905-541-6256 or macleomh@mcmaster.ca.