Meet this morning's Science valedictorian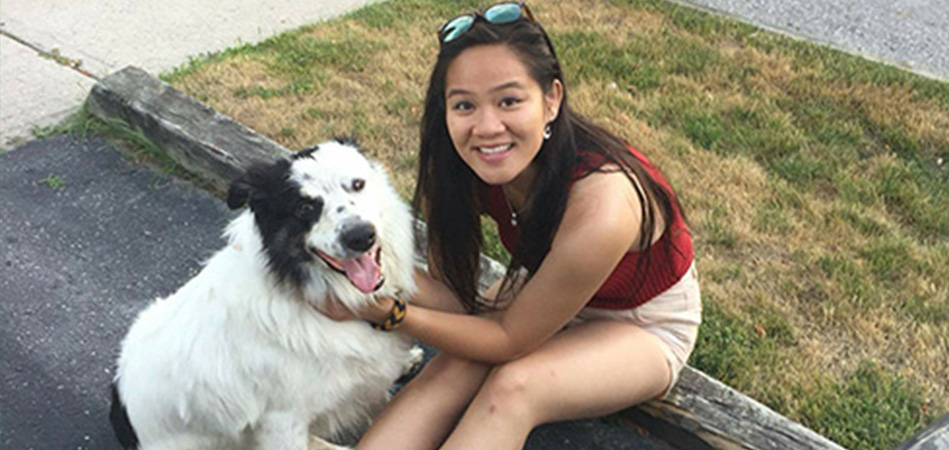 "Being at McMaster has allowed me to grow as a student and overall person in so many different aspects."
---
Where do you see yourself in 5 years? What would you say to your first year you? Meet Kim Pho, valedictorian at the June 15 morning convocation for the Faculty of Science.
1. Name: 
Kim Pho
2. Hometown:
Oshawa, Ontario
3. Degree/Major:
Honours Bachelor of Science in Molecular Biology and Genetics Co-op
4. What made you choose McMaster for you higher education career? 
I chose McMaster for a couple of reasons, but the main ones being its well-known prestige in science and research, and the campus/student population size! I have always loved that Mac isn't as populated as many other universities, giving students a chance to integrate into the community without losing themselves. Being able to walk from one side of campus to the other within 15-20 minutes is also a plus!
5. What will you be doing after graduation or see yourself doing? 
I will be pursuing a Master of Science here at Mac (can't get enough of being a Marauder) in the department of Biochemistry and Biomedical Sciences.
6. What would you say or advice to your first year self? 
You're going to hit a lot of lows, but your perseverance will reward you with highs that will make it all worth it.
7. How has McMaster shaped the person you are today? 
Being at McMaster has allowed me to grow as a student and overall person in so many different aspects. I have learned how to manage academics, ie. studying, test taking, but what is even more important (in my opinion) is that I have had the opportunity to meet so many people along the way that have taught me so much about so many different things, from relationships and community to research and science!
8. What events did you enjoy the most at McMaster/Hamilton city?
Welcome Week, Supercrawl, Charity Ball, homecomings and karaoke nights at Emerson Pub.
9. If you could change anything in the past or in your time at McMaster, what would it be? 
I wouldn't change a thing. I have done a lot of reflecting since completing my last set of finals in April, and I have realized that every hardship I endured has either directly or indirectly led me to where I am today, and I am fortunate to be the happiest and most fulfilled I've ever been.
10. Who was your support for succeeding in higher education? 
My family and friends. They're an irreplaceable support system in everything I do.
11. How have you changed over the course of your University life? 
I have learned to become more patient with myself and gradually learned that I will never be happy if I am continuously comparing myself to others. In relation to that, I have also learned how to be genuinely and completely happy for other people's successes and channeling that into admiration and learning from their experiences.
12. How have you grown as a person throughout your time at McMaster?
Overall, I have become a very open person that is willing to take on new challenges, and I am not afraid to face my fears on my own.
13. What do you envision yourself doing five years from now? 
Hopefully completing my PhD!
14. What is your definition of success? 
To be able to fall asleep at night feeling genuinely proud of yourself and surrounded by people you love (maybe not literally surrounded as you fall asleep, but surrounded in your daily life)
15. How would your life be different if you didn't go to McMaster? 
I wouldn't have fallen in love with the city of Hamilton! Hamilton has a weird reputation in the GTA, but since living here for 5 years, I have learned how diverse and beautiful of a city this is, and how there is always something fun to do and good food to eat!
Learn more about Spring 2017 convocations here: http://registrar.mcmaster.ca/grad/convo-dates/