Meet this afternoon's Science valedictorian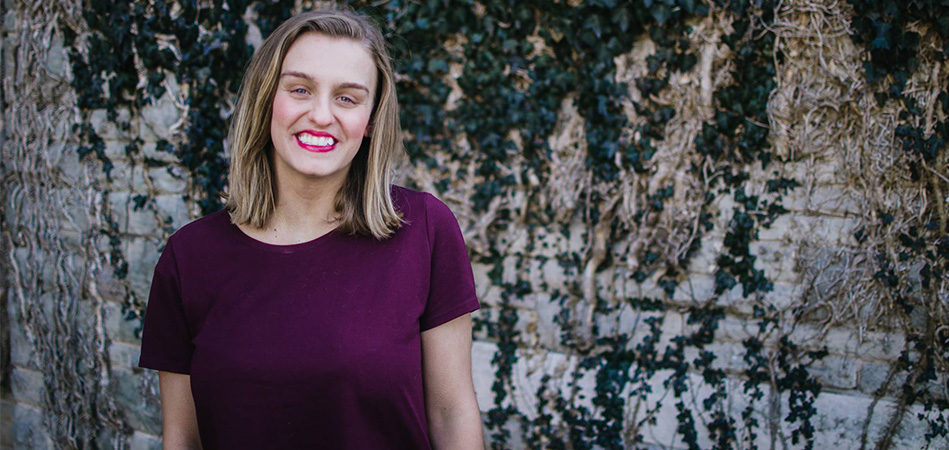 Photo Credit: William Dang
"Most importantly, this University taught me about important life lessons that aren't always taught from in a textbook even though that is all I thought I'd be gaining from this school."
---
Where do you see yourself in 5 years? What would you say to your first year you? Meet Patricia Kousoulas, valedictorian at the June 15 afternoon convocation for the Faculty of Science. 
1. Name: 
Patricia Kousoulas
2. Hometown:
I have lived in Toronto my entire life until I moved out to Hamilton to attend McMaster.
3. Degree/Major:
I just finished up my degree in Life Sciences and have always made the joke that I really enjoyed the "Life" aspect in my degree! The science part was pretty cool too.
4. What made you choose McMaster for you higher education career? 
My story of coming to McMaster was an interesting one. In grade eleven, I attended the Ontario University Fair and decided that it's probably the best idea to grab all the viewbooks from each of the Universities so that I can keep all my options open. I vividly remember coming home that evening and spending numerous hours looking through them all and taking mental notes about the pros and cons of each school. I am not sure if it was the multiple photos of people sitting on the grass, the many involvement opportunities or the colour maroon, but McMaster just screamed "Home" and got me incredibly excited about attending in the near future. A year later, it still had that same feeling when I'd be doing my research and when I began the application process. I got my acceptance in early February and started preparing for what my future at Mac was going to look like. The only thing that was holding me back were my parents since they didn't think it was a good idea to leave home when I had so many universities to choose from in Toronto.
At the bottom of my heart, I knew that the Life Sciences program was incredible, the sense of community and the people were all going to be amazing! May at Mac sold the school to me and I knew that I had to be here. I made the decision on the last day possible and it was the best decision I have ever made.
5. What will you be doing after graduation or see yourself doing? 
Four years pass by fast and even though I am so relieved that undergrad and school is over, I know that I am not quite done with McMaster and Hamilton. I wanted to take a year off and work and that's exactly what I am doing! I just got hired with the Forge@Mac which is where I'll be all year long and I am more than happy to still get to work for McMaster and hopefully can continue impacting young people.
6. What would you say or advice to your first year self? 
I would tell myself to embrace failure. I would remind myself that I will learn so much about myself through those moments and processes because the biggest tests are when you are at your lowest and must come up with another plan. Sometimes the biggest blessings come out of these mistakes and challenges, so embrace them and eventually you will laugh at yourself and move on.
7. How has McMaster shaped the person you are today? 
McMaster has been a generous provider that opened me up to many academic and personal opportunities that I was able to take on. It gave me a gorgeous campus and somehow attracted unbelievably kind people that were always willing to help if I had any problems that needed to be solved. Most importantly, this University taught me about important life lessons that aren't always taught from in a textbook even though that is all I thought I'd be gaining from this school. McMaster taught me the importance of trusting others and that when you give somebody the opportunity to prove themselves, allow them to and trust that they will. I am thankful for the various personal interactions that McMaster has connected me with which has helped me get closer to the person that I am constantly striving to become.
8. What events did you enjoy the most at McMaster/Hamilton city?
I am an event fanatic and sometimes I think I spent an equal amount of time in my classes as I did at events! My favourite events have always been during Welcome Week as a first-year student or an upper year rep. There is this incredible community feeling at the start of the year that always made me fall in love with this university again and again. I'm also a huge lover of the Hamilton Art Crawls that take place once a month, and would often find myself there especially during the summer months!
9. If you could change anything in the past or in your time at McMaster, what would it be? 
Anyone reading this right now will probably agree that your time as an undergrad student goes by incredibly quickly and can be extremely overwhelming at times. I sometimes found that I would always be looking forward to what is next and wouldn't do a good job at living in the present. I wish I learned how to breathe, slow things down and live in the moment better versus crossing things off my to do list and then immediately preparing for the next midterm or upcoming meeting. But then again, University is this hectic train ride that has no stops (except for the Holidays and summer break).
10. Who was your support for succeeding in higher education? 
I attended the Horizons Conference a month prior to starting at McMaster which introduced me to all the resources on campus and to amazing student leaders that were willing to support my transition into University. I luckily got involved with a lot of science students as well that helped guide me with academic support and gave me a great heads up with some key things to know about my academic and faculty life. Through my involvement, I met lovely professors and staff members that always were willing to lend a hand and check in on me. Through ups and downs with friendships, I have found a small group of individuals who have become my best friends that believed in me during moments that I didn't. Lastly, I learned to find support from myself and realized how important it was to be good to myself because sometimes it's you who must pick yourself up too!
11. How have you changed over the course of your University life? 
If you met first year Patty, she was this over-excited human tomato that was too positive about everything and everyone. Over the course of my time here, I learned to become a lot more critical, less naïve and to take time in making the decisions that I was faced with. I owe this change to the extracurricular projects I got involved with. These leadership positions pushed and challenged me in almost all aspects especially with having to make critical decisions and working with difficult members on large teams. It was all a learning process but it gave me ample opportunities to reflect on how I was doing and helped me realize what areas I still needed to grow in.
12. How have you grown as a person throughout your time at McMaster?
The best topic of conversation with my graduating pals has recently been, "how have you changed or grown over these past few years?" and I always find myself laughing when I get asked that question. I struggle to answer this question because there was no opportunity to measure my growth in character as there is a way to measure growth in inches for my height. I think I am still the same height as I was in first year but I do know that I have grown in my knowledge as a science student through some of the courses I took and academic projects I immersed myself in. From a more personal perspective, I really think I have grown through the way that I interact with people, understanding people's perspectives, supporting people and working in large team settings. I have learned how to fight for something even when it feels that there are 1000 obstacles in the way. The most important way that I have grown is through failure. Over these past four years, I have lost friendships that I thought I was going to keep with me forever. I have failed academically through midterms and exams or poor planning for the long term. Most recently, I have failed professionally through rejections or when I decided to run to be the next President of the Student Union. Failure has reminded me to the importance of reflection and that sometimes it is important to pause and re-evaluate why that happened and why you wanted to go after that thing in the first place. I have been taught to embrace my failures and be thankful for them because if you ask me now if I am happy if all those things happened….. I would say yes. When you win, all you do is win, but when you lose, you learn.
13. What do you envision yourself doing five years from now? 
I wouldn't be shocked if I was still working at McMaster or living in Hamilton. However, I really do want to work at an educational institution in some capacity. So, if not at McMaster, hopefully at the University of British Columbia (living near tress and water at the same time sounds pretty epic).
14. What is your definition of success? 
I still don't know and I doubt that I will ever be able to break it down into a perfect definition for me to recite. The aspect of success changes for me quite often and it usually depends on the current situation that I am in. For example, I made it my personal goal to take a month off immediately after my final exam season to take time for myself to breathe, relax, catch up on family and friend life and to start volunteering. Sticking to that plan felt like success. It usually comes in small chunks, involves some sort of goal setting but it is a very personal thing to me. Something that will always be defined as success in my own life is the amount of people I will impact. A position, a job title, an academic accomplishment is definitely something to be proud of but the biggest success in life is to impact others and that is something I will always strive to do.
15. How would your life be different if you didn't go to McMaster? 
I almost went to the University of Toronto and thank goodness I didn't because McMaster has introduced me to some of the most incredible people that I am proud to call friends and mentors. I think the culture on collaboration, team work and community focus has helped me become better at working with others and has given me the skills to prepare for whatever I decide to embark on in the future. There have been so many opportunities here for me to explore my "out of the classroom" passions and interests which have made my undergrad life feel balanced. All in all, I don't even want to know who I'd be or where I'd be if I didn't go to McMaster. I love this place and will always.
Learn more about Spring 2017 convocations here: http://registrar.mcmaster.ca/grad/convo-dates/