Meet the Nursing and Medical Radiation Sciences valedictorian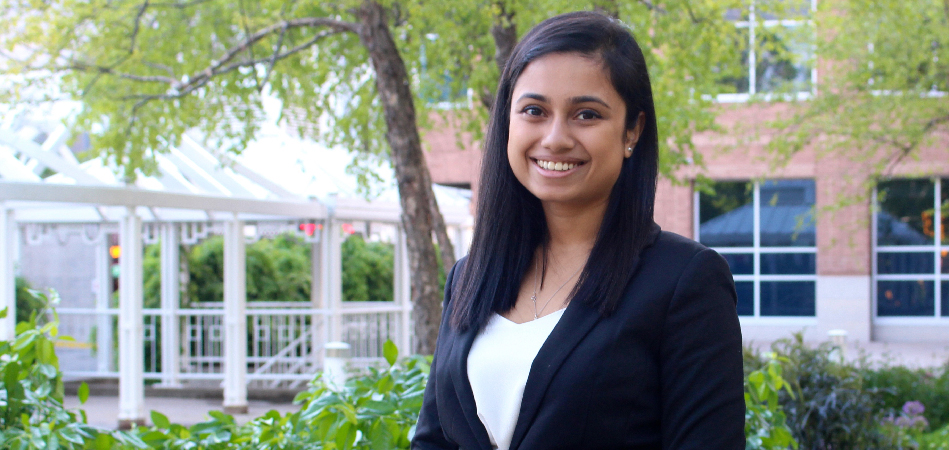 "McMaster has taught me to aim beyond my limits and continuously step outside of my comfort zone."
---
Where do you see yourself in five years? What would you say to your first-year you? Meet Anishka Saldanha, valedictorian at the June 13 Convocation for Nursing and Medical Radiation Sciences.
1. Name: 
Anishka Saldanha
2. Hometown:
Initially grew up in Bangkok, Thailand, but have lived in Canada since the age of six. Until coming to Mac, Brampton has been home.
3. Degree/Major:
Bachelor of Medical Radiation Sciences, specializing in Radiation Therapy.
4. What made you choose McMaster for you higher education career? 
There was a long list of pros and cons between McMaster and another university that was pinned to my fridge for weeks before the selection deadline. Attending May at Mac certainly added to the list of positives. One of the big reasons was the unique offering of the medical radiation sciences program. McMaster's great rankings as a university, the education I've received, and every amazing experience since that decision has only helped to confirm that I made the right choice.
5. What will you be doing after graduation or see yourself doing? 
I'm flying to Winnipeg the day after convocation and will then be going to Calgary. It will be my first time exploring Central and Western Canada. I'm especially looking forward to visiting Banff!
6. What would you say or advice to your first year self? 
Don't limit your learning to the lecture hall. Join a class outside of your classes, whether it be dance, fitness, language, music, coding… It will help you become well-rounded, develop a love for learning, and make new friends.
7. How has McMaster shaped the person you are today? 
McMaster has taught me to aim beyond my limits and continuously step outside of my comfort zone.
8. What events did you enjoy the most at McMaster/Hamilton city?
Performing at McMaster's Pangaea, in a Bachata (dance) routine with the Organization of Latin American Students, was an exhilarating experience. In addition to this, the fireworks at Light Up The Night 2016 were the most spectacular I've ever seen.
9. If you could change anything in the past or in your time at McMaster, what would it be? 
If there were a way I could have taken more elective courses, I definitely would have dived more deeply into psychology and economics.
10. Who was your support for succeeding in higher education? 
Firstly, my professors, lab instructors, and clinical education leaders have been fantastic supports throughout this journey. In addition to this, my mentors and friends have played a big role in helping me succeed. I want to give a special mention to my family, and one of my clinical education leaders from the Windsor Regional Cancer Program – I will be forever grateful for your encouragement when I needed it most.
11. How have you changed over the course of your University life? 
Throughout the course of my university journey, and particularly in fourth year, I developed a better understanding of who I am as an individual. With a deeper sense of self-knowledge, I am better equipped to make decisions and know how to go about leading a fulfilling life.
12. How have you grown as a person throughout your time at McMaster?
I've come to appreciate, experience, and enjoy the steps throughout each journey, rather than solely strive towards an end goal.
13. What do you envision yourself doing five years from now? 
I hope to be working as a radiation therapist! I also see myself completing my piano education, as well as working towards attaining fluency in a language.
14. What is your definition of success? 
Success is when you know that you've given your best effort, regardless of the outcome. Additionally, I think success can be defined as when you help others recognize their true potential.
15. How would your life be different if you didn't go to McMaster? 
I've thought about this question in the past, and I find it difficult to imagine… quite simply, I would be different from the person I am today. I would have studied something different (medical radiation sciences isn't offered at too many universities!), wouldn't have been a part of any of the clubs I joined here, and wouldn't have made the friends that I have. I am grateful for the encouragement and support I received to choose McMaster, and for every amazing opportunity that has come my way ever since.
Learn more about Spring 2017 convocations here: http://registrar.mcmaster.ca/grad/convo-dates/