Meet the DeGroote School of Business valedictorian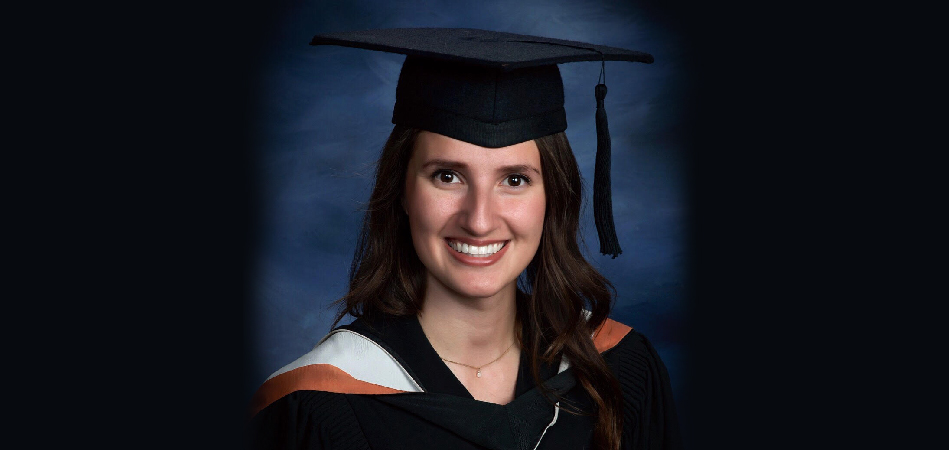 Gabriella Vasileva on learning about community, friendship and trust - and overcoming perfectionism along the way.
---
Where do you see yourself in five years? What would you say to your first-year you? Meet Gabriela Vasileva, valedictorian at the June 12 Convocation for the DeGroote School of Business.
1. Name: 
Gabriela Vasileva
2. Hometown:
Newmarket, Ontario
3. Degree/Major:
Honours Bachelor of Commerce with a focus in Marketing
4. What made you choose McMaster for you higher education career? 
When I visited McMaster for Fall Preview Day, I knew that no other school could measure up. I fell in love with the campus, the kind students and the B.Comm program. To be honest, I felt like I had arrived home (I just had to wait for my acceptance letter!).
5. What will you be doing after graduation or see yourself doing? 
I've decided to take a break and travel this summer! After I have fed my travel bug, I will seek a marketing analyst role to gain valuable work experience prior to applying to MBA programs. I have a passion for marketing research; I find it fascinating to uncover the key drivers which determine consumer attitudes towards brands.
6. What would you say or advice to your first year self? 
Calm down, you are 18 years old. You don't need to have everything figured out just yet.
7. How has McMaster shaped the person you are today? 
McMaster has taught me the importance of community, friendship and trust. Through working with many different students in courses and extracurriculars, I understand the importance of teamwork much more than I did coming into McMaster. At the end of the day, we are all students that want to learn from one another and watch each other grow. McMaster has shown me that when we help one another, we all succeed.
8. What events did you enjoy the most at McMaster/Hamilton city?
Narrowing it down to one is difficult, so I'll just go with my first week at Mac. Welcome Week 2012 introduced me to the people that would become my closest friends to this day. Whether it was dancing in the Matthews Hall Airbands team, or screaming my lungs out cheering during faculty events, there's something about making friends while you are melting in 35 degree weather that brings you closer together. Beyond WW2012, being involved in the DeGroote Commerce Society (DCS) these past few years has been an amazing ride filled with so many talented and caring individuals. Although I will miss it dearly, I cannot wait to hear about the bigger and better things that the DCS has in store!
9. If you could change anything in the past or in your time at McMaster, what would it be? 
I honestly would not change a thing. Sure, there is a decent handful of situations in which there could have been a more desirable outcome (midterm grades, results at business competitions, personal life, etc.); it is acceptable to wish for a rewind button from time to time. However, I think that a student who has not been tested during their time at university has not gained as much from the experience as they could have.
10. Who was your support for succeeding in higher education? 
First and foremost, my amazing parents, who have taught me the importance of dedication and perseverance. However, I could not be more thankful for my friends at Mac who did a lot of heavy lifting themselves. As students, we all spend more time on campus than with our families, so having a strong, supportive group of friends is vital.
11. How have you changed over the course of your University life? 
Of course! I am an ex-perfectionist who slowly learned that it is normal to not be good at everything. When faced with required courses that did not seem to go my way regardless of how hard I studied (hello accounting), I learned to move my hand away from the panic button. I would try my best until the course was over, and then focus on subjects that I actually cared about! Dwelling on the past helps no one. This may have been the hardest lesson I learned.
12. How have you grown as a person throughout your time at McMaster?
In high school, like many other teenagers, I was in a constant battle with self confidence. Coming to McMaster changed that. Every day that I walk on this campus, I feel more inspired than the day before. In first and second year, I gradually started taking more risks by applying to different clubs and committees. As I became more ambitious, my self confidence improved drastically. I learned how to focus on my goals and not the perceptions that other people might have of me.
13. What do you envision yourself doing five years from now? 
I envision myself having spent a couple of years working as a marketing analyst, then completing an MBA and entering into the world of brand management upon completion. However, I am also open to exploring different avenues. I think that being closed-minded in your career path harms personal growth.
14. What is your definition of success? 
We tend to think of success as a mark on an assignment, or an achievement to add to our resume. But in reality, achieving success is far more impressive than the final goal. Success is a combination of the perseverance it takes to overcome obstacles, the refusal of short-cuts and following an uncompromised set of values.
15. How would your life be different if you didn't go to McMaster? 
I don't even want to think about what life would be like if I didn't go to Mac!
Learn more about Spring 2017 convocations here: http://registrar.mcmaster.ca/grad/convo-dates/