Meet McMaster's Mabel Pugh Taylor Writer-in-Residence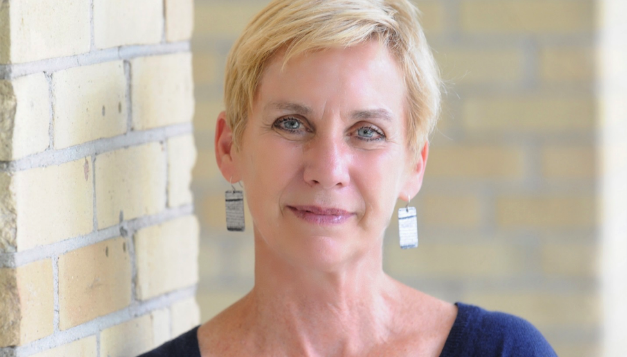 Giller Prize nominee and 2015/16 Mabel Pugh Taylor Writer-in-Residence, Kim Echlin, talks about why she loves to write, what inspires her, and why it's so important to support aspiring writers.
---
Kim Echlin has always loved to write.
"I come from a story-telling household," she says, recalling how, as a child, she would often spend weekends with her grandfather, listening to his stories, enchanted by the tales he told.
As soon as she could, she began to write stories of her own and now she's helping others to do the same.
Echlin, nominated for the Scotiabank Giller Prize for her 2009 novel, The Disappeared, is the 2015-16 Mabel Pugh Taylor Writer-in-Residence, a program co-sponsored by McMaster's Department of English and Cultural Studies and the Hamilton Public Library.
As Writer-in-Residence, Echlin is working one-on-one to support and mentor a number of new or aspiring authors both at McMaster and in the Hamilton community.
In the following video, Echlin talks more about why she loves to write, what inspires her and the transformative affect mentorship can have on a developing writer.
Echlin's office hours at McMaster are by appointment on Tuesdays from 7:00 a.m  to 4 p.m..
More about Kim Echlin:
Kim Echlin's books include Under the Visible Life, Elephant Winter, Dagmar's Daughter, Inanna, and The Disappeared, a Giller short-list and winner of the Barnes and Noble award, translated into 17 languages. She won the CBC Literary Prize for Creative Non-fiction for "I, Witness." She has been a documentary-maker, editor and teacher. She was literary fiction editor for The Ottawa Citizen for five years. She has edited and taught at The Banff Centre for the Arts and at the University of Toronto, School for Continuing Studies Creative writing program where she was honoured with an instructor of the year award. She has lived and travelled in France, China, the Marshall Islands, Malawi, Zimbabwe, Central America, Cambodia and she has participated in literary festivals in North America, Iceland and Pakistan.