McMaster starts business process modernization initiative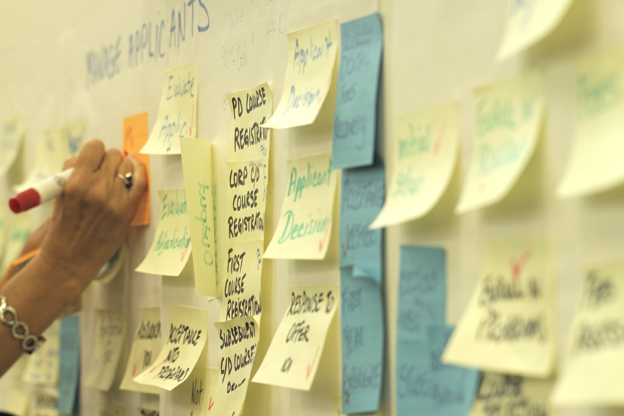 Photo Credit: Sheldon Smart
The University's administrative units are mapping the university's current business processes.
---
This summer teams of McMaster staff are busy making maps – but not the kind that get you to the beach.
The University's administrative units are mapping the university's current business processes.
The business process mapping initiative will allow McMaster to better understand the interactions between the current patchwork of more than 20 distinct business systems that are used to administer the University. This includes admissions, class registration, accounting and research administration.
These maps are an early step in the University's multi-year journey to modernize its business processes and replace its current business systems with an enterprise resource planning (ERP) system.
"We are bringing a critical view to all of McMaster's business practices and approaching all of our inherited business wisdom with skepticism," says Fred Hall, chair of the Systems Renewal Steering Committee. "The opportunity to modernize the University's business processes is one of the benefits of choosing to replace McMaster's legacy systems with an ERP system."
The mapping process is part of the University's preparations for the project, designed to replace systems for finance, student administration, research administration, human resources and business intelligence.
Ultimately the project will enhance the student experience, support student growth, improve routine workflows, and strengthen business intelligence.
Last spring, following significant community consultations and demonstrations of software options, the University selected Oracle's PeopleSoft ERP system as the underlying software for the ERP. McMaster is now is in the final stage of selecting a system implementation (SI) vendor to help configure and, in limited areas, customize the PeopleSoft product.
This September the project will begin a four month Fit-Gap stage when McMaster implementation teams will work with the SI vendor to develop a comprehensive and detailed plan for implementing the system at McMaster. Beginning in 2013, functional area teams will begin the multi-year process of implementing the new systems.
Staff who work in functional areas such as finance and admissions have been developing preliminary process maps. The broader McMaster community will be able to review the maps and provide comments at an open house in September.
Background information is available on the project's website.