McMaster replacing Chart of Accounts this December

It's longer, and has more parts, but, paradoxically, McMaster's updated Chart of Accounts will be easier to use.
---
It's longer, and has more parts, but, paradoxically, McMaster's updated Chart of Accounts will be easier to use.
For decades, it's been one of those things that McMaster faculty and staff take for granted: the three-part, ten-digit account code. This December, McMaster will completely replace this system with a modern chartfield system, featuring more digits and more fields. This system is designed to make financial reporting easier and more consistent.
This revamped Chart of Accounts will be introduced with the launch of the financial portion of Mosaic in December. The move to a new system entails a shift in terminology. The current "account" and "sub-code" are being incorporated into "chartfield strings" in which an account is but one component.
The new system will have variable length chartfield strings containing three to five fields. The new chartfield strings will range from 13 to 36 digits long. Further, there will be two distinct types of chartfield strings. Operating, ancillary, and specifically funded funds will typically have four fields totaling 18 digits, while capital, trust and research funds will have five totaling 21 digits plus a text field that can be up to 15 characters long. (see examples below)
"While the extra characters might seem intimidating, the new chartfield string will make it easier for departments to track and manage revenues and expenses," said Stacey Farkas, assistant finance lead for Mosaic who has worked extensively on the new Chart of Accounts.
To ease the transition to the new system, an online tool to convert legacy account codes to chartfield strings will be released shortly before the finance and research finance portions of Mosaic launch this December.
The new system makes several changes which will add flexibility to the way McMaster organizes itself and reports its financial activities. Crucially, the addition of a program field will make it much easier for faculties to co-manage interdisciplinary programs as multiple departments can share a program code. For example, a joint Chemistry and Linguistics program would use the program field to track expenses and revenues. Forward with Integrity challenged the University to be more interdisciplinary, and this new Chart of Accounts will eliminate one of the practical barriers that previously hindered interdisciplinary programs.
One challenge for the Mosaic team is dividing the legacy accounts into departments and programs. The Mosaic team is currently consulting with stakeholders to confirm and tweak the new divisions. In a proof of concept test, a sample faculty's financial accounts were streamlined from 132 departments to 17 departments and 42 programs.
The new system addresses the demand for research accounts by introducing a longer chartfield string for research funds. The current system had run out of account codes for research accounts. The new 36 character string (maximum length) will accommodate many years of successful grant applications by McMaster researchers.
The conceptual differences between the legacy account codes and the new chart field strings are significant.
"We are used to thinking of accounts as a strict hierarchy. The new system will allow for multiple ways of analysing revenues and expenses. I anticipate that it will take some time for people to fully utilize the potential of this system and the tools that come with it," said Farkas.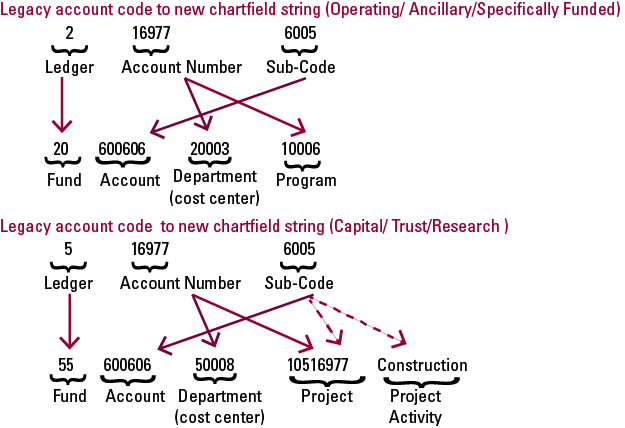 About Mosaic
Mosaic is McMaster's project to modernize its business and administrative processes and replace its current business systems with an enterprise resource planning (ERP) system. Mosaic will replace the current systems used for student administration, finance, research administration, human resources, and business intelligence. Replacing all of these systems in one multi-year project provides a rare opportunity to modernize the University's business processes. The new system will be launched in stages over the next two years.
For additional information about the project refer to the Mosaic website: www.mcmaster.ca/mosaic