McMaster graduand, mother finally a nurse at 49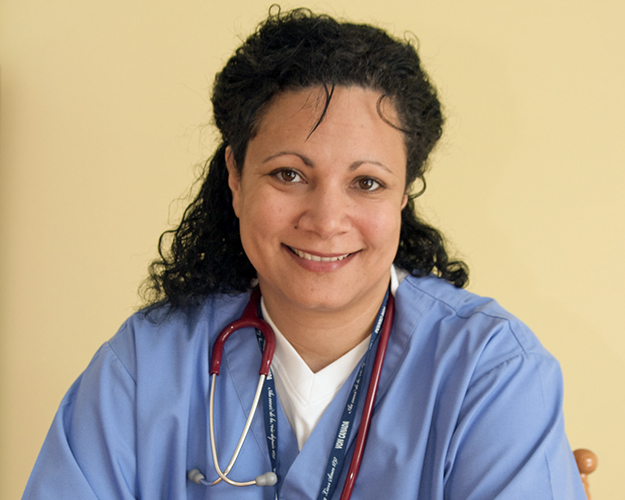 For decades, Lori Zozzolotto wanted to be a nurse. On Friday, she'll graduate with 35 of her peers from the McMaster Mohawk Conestoga Bachelor of Science in Nursing program.
---
For decades, 49-year-old Lori Zozzolotto felt the call to study nursing, but she let a voice in her head prevent her from doing it.
"He said that women weren't smart enough to do well in the sciences," says Zozzolotto, referring to her high school physics teacher. "I was failing physics and he said he would pass me if I promised never to take another science course. For years, I always kept thinking I wanted to be a nurse, but that I wasn't smart enough."
Finally, she has silenced that voice.
On Friday, Zozzolotto will graduate with 35 of her peers from the McMaster Mohawk Conestoga Bachelor of Science in Nursing (BScN) program during the afternoon Convocation ceremony at Hamilton Place. Graduates from the rest of McMaster's Faculty of Health Sciences and the Faculty of Science will also receive their degrees at the 2:30 p.m. ceremony.
Everything changed for Zozzolotto when she took a first-aid course in 1987. By 5 p.m., after a full day of learning, she was performing first-aid for the very first time on her best friend after their car was T-boned. "I was covered up to my elbows in blood, applying pressure to her head wound," she said.
Zozzolotto began to seriously consider nursing after more than 20 years in the workforce – first as a correctional officer, and later as a doula (labour coach). As a correctional officer for 14 years, she escorted female inmates to their medical appointments and found herself providing emotional support to patients going through a rough time.
"I have a real kindness and compassion for people. I think that's what drew me to nursing," she says.
The Milton native caught up on her prerequisites and earned her Registered Practical Nurse (RPN) diploma from Sheridan College in 2008. She achieved high marks and was named class valedictorian. "Instead of just surviving, I was flourishing. It was a real surprise to me," says Zozzolotto.
She decided she really wanted to be a registered nurse (RN), and enrolled in the Post-RPN to BScN program in 2009. "I only applied here because I wanted to go to McMaster. I wanted to go to the best school or no school," she says.
It hasn't been easy. For three years, the single mom has worked two jobs while studying and raising her twin 18-year-old boys, Jake and Zak. "Lots of coffee" got her through a number of 16-hour work days.
"When you're an adult student you have the best incentive. You can't go home to mom and dad and say you failed. You have kids. Failure is not an option," says Zozzolotto.
It was a constant struggle financially, too. "I was trying to put food on the table, get clothes for the kids and pay for books for school. You're always wondering, 'do I have enough money for gas or parking?'"
Zozzolotto works as a community nurse for Acclaim Health in Halton Region, where she does home visits with chronically ill clients and people just released from hospital with acute conditions.