Reminder: McMaster adopting electronic pay statements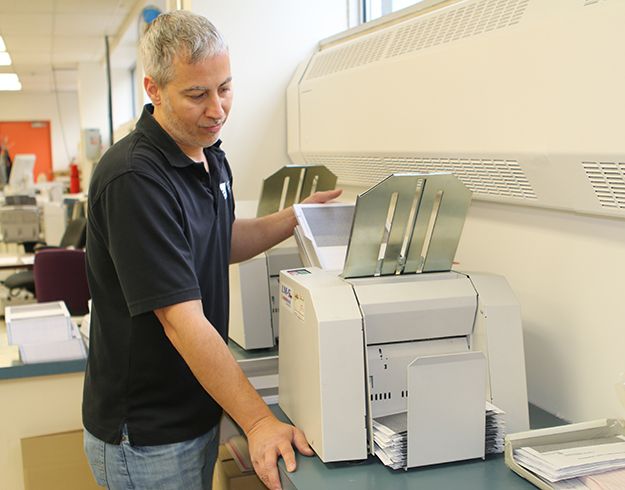 Photo Credit: Andrew Baulcomb
Lafleche 'Flash' Arsenault, digital imaging operator at Media Production Services, helped print and sort the University's final large set of paper pay statements on Thursday morning.
---
Every two weeks, on Friday, you see them nestled in McMaster's employee's mail slots: the paper pay statement.
It's a routine employees have grown accustomed to, but this October pay statements will meet the electronic age at McMaster.
In a typical two-week pay cycle McMaster currently prints 9,500 pay statements. That's a lot of paper. But this October, thanks to its new HR system, McMaster will be able to replace most of that paper with electronic pay statements.
Employees will be able to log into McMaster's Mosaic system to view their pay statements, beginning October 24 for faculty members and October 31 for staff members. Portions of the hospitality services, maintenance and operations, and operating engineers employee groups will continue to receive paper pay statements in addition to the electronic pay statement.
Electronic pay statements are increasingly common in Canada and offer a number of benefits. Such access is more convenient, efficient and secure than printing and distributing paper, which can get misdirected or lost.
"Reducing unnecessary paper usage is one step we can all help make McMaster more environmentally sustainable," said Wanda McKenna, Executive Director of Human Resources. McMaster will save about 1,800 kg of paper a year with this initiative.
Employees will access their electronic pay statements with their MAC ID and password on the Mosaic website (mosaic.mcmaster.ca). (From October 24 onward pay statements will be archived in the Mosaic system.) Those without work computers may use the computers in the employee lounges or their own personal computers to access the system.
A sample of the electronic pay statement highlights new features.