Mathstronauts Executive Director shares her passion for science and Hamilton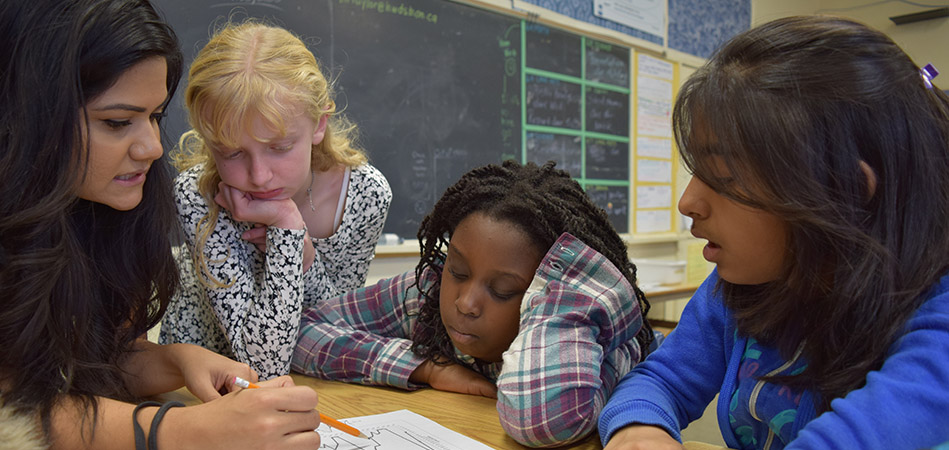 In celebration of International Women's Day McMaster is featuring tech companies run by women supported by The Forge. Read Q and A with Mathstronauts Executive Director Sehrish Zehra.
---
In celebration of International Women's Day McMaster is featuring tech companies run by women who operate at The Forge, Hamilton's startup incubator and McMaster University's entrepreneurship initiative.
Meet Sehrish Zehra, Executive Director of Mathstronauts.
Q. Overview of Mathstronauts
Mathstronauts is a non-profit, social venture, and social innovation organization. The business model that worked the best for our goals, specifically in the city of Hamilton, was to become a non-profit that's able to offer all sorts of programs and events for kids to be engaged in science, technology, engineering, and math (STEM) subjects. 
Q. What impact have you noticed?
Students seem to love the after-school program and the events that we put together – you can see it in their faces; the excitement they have when they come through the doors and when we're showing them the things they'll be doing. We're focused on bringing innovative and cool things to their fingertips; things that they wouldn't necessarily otherwise have access to. We're consistently trying to implement the 'cool' factor into our work and we're tuned into the students we're trying to reach, and the Hamilton population at large.
One of the impacts is overall engagement of kids in STEM. We want to make sure that we're respecting the integrity of the material so that the kids are actually engaged and also having fun at the same time. Some students come back every year to our after-school program and it's a positive sign seeing high re-enrolment rates. Recently we noticed that by the time these kids get into grade 8 they're more focused and taking part in other activities; they're taking initiative outside the classroom and outside our program. We're making an actual, holistic impact. That makes me happier than anything else. I've seen the kids in our program go on to participate in science fairs, taking on new projects, and being more involved in similar activities. The kids coming to our program are also attending our other events – this is confirmation for us that we're doing something right and directing them appropriately.
Q . What motivated you to begin a program like Mathstronauts?
I have a background in Science; I did my undergrad at McMaster in Life Sciences and then did my Masters in Medical Science at McMaster (I'm a proud McMaster alumna!). I've always been interested in education and being connected with my community. When Mathstronauts took off I didn't realize at the time that it really embodies everything that I care about. Personally it's the perfect thing that fell into place. As a result of Mathstronauts, and the President (who is a current Bio-Medical Engineering student at McMaster) I learn so many things about engineering that are fascinating. I have a personal interest in the STEM subjects but I think they hold a lot of value for future generations because that's the direction the world is headed.
Q. How many people on your team?
We have five people at the executive level and approximately 40 volunteers. The Mathstronauts president, a current student at McMaster, is also the president of the Mathstronauts student club. We're lucky to have so many volunteers interested in doing this work; it's one thing to have a personal passion but it's even better when you see other people share that passion. McMaster is an amazing resource for like-minded people who want to create a positive impact in a meaningful way. You're volunteering but you're encouraging kids to be more inspired in a subject area you personally love. 
Q. Benefits or challenges of being your own boss
In a non-profit we are accountable to a board of directors and people who provide funding. But I like having the leadership role. It's a blessing to have a vision and work with a team that's able to help you execute that vision. Being your own boss is great in-and-of-itself but I enjoy being able to do the work the way that we feel is valuable. Being accountable makes you do good work, it keeps us motivated and working hard to be the best we can be as an organization.
Q. Advice for other women, or about starting your own business
It's one thing to have an idea but it's another to put it into action. The best thing that anybody can do is be resourceful. There are a lot of resources that are accessible but not always utilized. Be active in looking for these resources – they do exist. The amazing thing I find about Hamilton is that no matter where I turn everybody is willing to help. We ended up doing this by chance in Hamilton but I think this is where it belongs because of the extreme amount of support. Also make time to learn the skills, even basic skills. Take those knowledge-gap courses to prepare yourself, even if it's just to know what your accountant is telling you. Understanding marketing and finance is helpful in developing a really good business.
Q. Future plans?
Mathstronauts has taken some really good steps and made some great strides in terms of gaining funding. At the moment we're brainstorming an international camp. We want to utilize our time and focus resources and people over the summer to put together a two-year plan and developments we want to see from the organization.