Lab tech helping to broadcast Olympic Games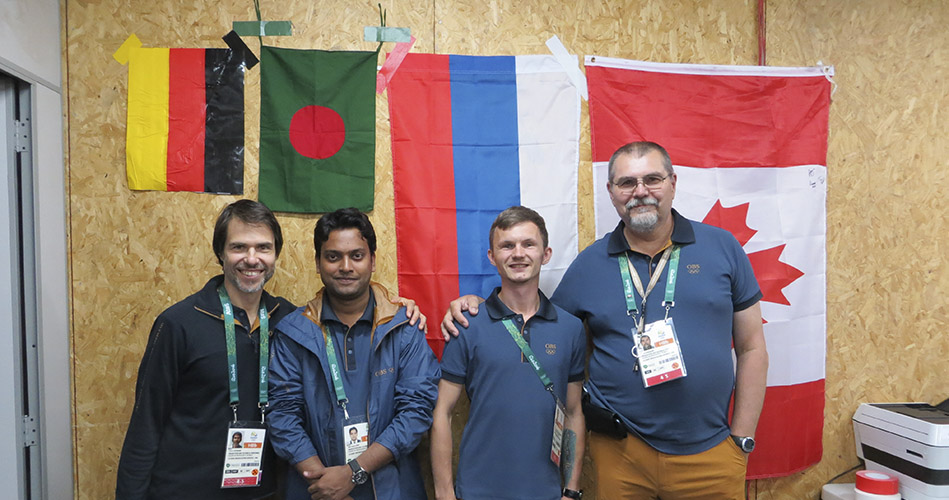 Peter Jonasson, McMaster Engineering staff member, is working behind the scenes helping broadcast the2016 Summer Olympics.
---
McMaster Engineering staff member Peter Jonasson is running a different kind of marathon at the 2016 Summer Olympics in Brazil.
The lab technical supervisor and former CHCH TV audio-video technician is spending his summer behind the scenes helping broadcast the games to the world.
Jonasson is acting as a Technical Operation Centre supervisor with the Olympic Broadcasting Services (OBS), which is the hub that connects all of the venues' broadcast services and transmits signals to the International Broadcast Centre located in the Olympic park. Broadcasters from around the globe use this international signal with their local commentary producing a unique coverage of the Games.
"The technology at the games is always state of the art and something new is always being showcased," said Jonasson, who has worked during eight other Olympic Games. "You make a lot of friends when you work and lodge with the same people for a month and then you don't see them again for two years; it is always great to reconnect. I don't watch a lot of sports but the Olympics are different. Admittedly, I'm supposed to be impartial but when I see the Maple Leaf on an Olympian you know who I'm cheering for."
Jonasson's day job is assisting Engineering Physics undergraduate students in the lab by helping them to gain an understanding of a variety of technologies, including fibre optics and optical communication — which are linked to his Olympics work.
This is Jonasson's ninth Olympic Games. He has also filled positions at the Commonwealth Games, Goodwill Games and last year at the Pan Am Games where he was the TOC Supervisor for Soccer at Tim Horton's Field in Hamilton. In Rio, Peter is at the Rugby 7's and Modern Pentathlon venue hosted in Deodoro Stadium.
Peter is one of 7,100 Olympic Broadcasting Service personnel representing 69 countries supplying the live radio and television coverage of every sport from every venue at the Olympics Games in Rio de Janeiro.