Incubating raw talent: 56 top young innovators and entrepreneurs at SHAD McMaster this summer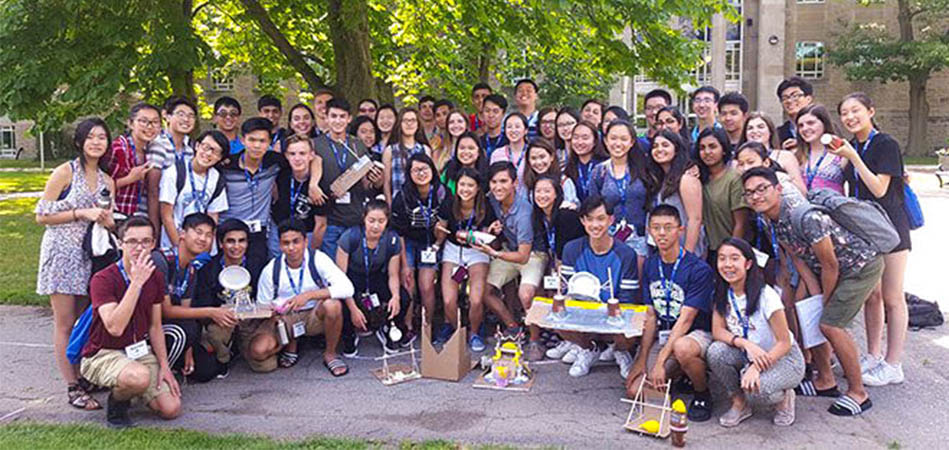 SHAD produces leaders for Canada through its award-winning, life-changing, pan-Canadian enrichment platform for high school students.
---
Selena Chiu is excited about joining SHAD McMaster and other top students and critical thinkers from around the country hoping to become Canada's next generation of innovators.
Chiu is a grade 11 student from Burnaby, British Columbia, with a rather long list of accomplishments.
Chiu designed a baby bottle that was self-heating, won the Hong Kong budding scientist award, formed the mock trial club at her school, organized an anthology to showcase the work of students at her school and was selected as a youth delegate to attend a United Nations conference.
Chiu is one of 801 students from across Canada participating this July at one of SHAD's 13 host campuses from coast to coast.
"I still cannot believe I was granted this opportunity. Spending the summer with exceptional student leaders from across the country gives me an adrenaline rush."
Anshul Kapoor, a grade 11 student from Ottawa, Ontario, is another student at SHAD McMaster looking to continue making an impact. He already has a long list of accomplishments including creating a science and robotics club for underprivileged children.
"One's financial status should not affect their education and limit them from opportunities that will empower them to learn new skills and eventually shape the world," Kapoor says.
Kapoor, who created a not-for-profit organization this year to work with other highly motivated high school students interested in innovation, says SHAD is a one of a kind program that allows students to learn from other change makers and become leaders – something crucial for Canada.
"Creating an education system which trains the student and provides new opportunities for youth to be more innovative and entrepreneurial will create long-term prosperity."
At SHAD, which was founded in 1980 to help youth reach their potential, students in grades 10 to 12 are immersed in an award-winning, one month enrichment program focused on STEAM: science, technology, engineering, arts and math. The students interact with renowned university faculty and visionary corporate leaders. In a unique element of the program, the students are challenged to come up with an original solution to a societal problem they learn about in the first week. It teaches them about entrepreneurship and innovation and leaves the students seeing how they can make an immediate impact.
The president and CEO of SHAD, Tim Jackson, is ecstatic the program has now expanded to a record 13 host campuses across Canada. He says his number one goal is to make SHAD, as well as the bursaries which enable some students to attend, available and accessible to every deserving student across the country.
"I've seen the difference SHAD can make to help youth realize their potential. It is not only great for them as individuals; it's great for the country as a whole."
When the program ends on July 28, the students become part of an important network of close to 16,000 alumni including 32 Rhodes Scholars and leaders in many fields. The power and longevity of the network is on display at SHAD McMaster. SHAD Fellow Cathy Han of Calgary is an entrepreneur who founded her own company in Silicon Valley after going to SHAD in 2006 and has never forgotten those roots.
She spoke so highly of her early experience that her younger sister Amy is attending SHAD McMaster this summer.
Amy is a grade 10 student who started coding when she was 11 and is an advocate for having more girls participate in STEM.
ABOUT SHAD:
SHAD produces leaders for Canada through its award-winning, life-changing, pan-Canadian enrichment platform for high school students. Every year, SHAD helps 800 young Canadians tap into their full potential through an innovative month-long program at one of 13 partner university campuses. There, students apply STEAM (science-tech-engineering-arts-math) disciplines to real-life public policy and entrepreneurial challenges, forging insights and valuable relationships for life. Among its thriving global network of close to 16,000 SHAD Fellows and innovators are 32 Rhodes Scholars, 80 Loran Scholars, and 43 Schulich Leaders. For more information, visit www.shad.ca
For more information or to set up an interview with a student in your area, please contact: Teddy Katz, Vice President, Media Relations | SHAD teddy@shad.ca or call 647 505 8095