Hamilton Gallery of Distinction announces 2014 inductees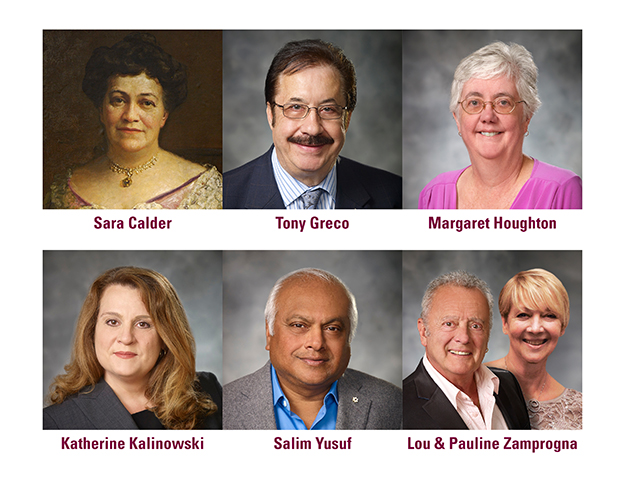 Seven outstanding citizens have been named to Hamilton's Gallery of Distinction.
---
Seven outstanding citizens have been named to Hamilton's Gallery of Distinction. The 2014 inductees include leaders from healthcare, the arts, local business and heritage. Each has made a lasting contribution to Hamilton.
They will be inducted at the 31st annual gala dinner on Tuesday, Nov. 18 at Michelangelo Events & Conference Centre.
The 2014 Hamilton Gallery of Distinction inductees are:
Sara Calder (posthumous)
When she died in 1914, it was said no woman lived and worked more actively to shape the city's thought and action. Born in 1846 to a civic-minded family – her grandfather James Gage owned the homestead where the Battle of Stoney Creek was won – Calder shaped Hamilton's future with unmatched activism and zeal. She led the purchase and preservation of the Gage homestead and helped open Battlefield Park to the public. Thanks to her leadership, the Battlefield monument was raised in 1913. It is a lasting tribute to those who fought in the Battle of Stoney Creek while commemorating 100 years of peace with the U.S. 
Tony Greco
Affectionately known as "Mister Tony", Greco arrived in Canada as a 17-year-old to begin his new life. He opened a barber shop on Locke Street and forty years later he is lovingly referred to as "the Mayor of Locke Street" and his compassion for people and community are deeply-rooted and widely-respected.  As co-founder of the Locke Street BIA he helped create and promote one of Hamilton's most unique destinations. He has served as a member of the Hamilton Festival and Events Committee, on the Mayor's Advisory committee and dozens of other boards and groups, all while supporting a number of worthy initiatives.
Margaret Houghton
Regarded as Hamilton's chief chronicler and historian-of-record, Houghton is the city's go-to resource on Hamilton's history and heritage. For 36 years she has collected and preserved Hamilton information and artifacts as the Library's Archivist. She has written dozens of books and articles about the city, including the "First Here" series and "Hamilton at War". Born in Westdale and a McMaster graduate, it's said that if Margaret doesn't know it or can't find it, then no one does and nobody can.
Katherine Kalinowski
As Assistant Executive Director of Good Shepherd Centres, Kalinowski serves marginalized and sometimes forgotten Hamiltonians. Offering a hand-up, she blends compassion, respect and tenacity, getting things done and enacting lasting change. "Homelessness is unacceptable," she says, and makes it her daily mission to make Hamilton better. Leading and serving on countless committees and action groups, her work has helped transform Hamilton's emergency housing and social services.
Dr. Salim Yusuf
The professor of medicine at McMaster University, director of its Population Health Research Institute and vice-president of research at Hamilton Health Sciences, is the world's leading expert in cardiovascular disease. The Rhodes Scholar arrived in Hamilton in 1992 as McMaster`s Director of Cardiology, pioneering the concept of large, simple drug trials, and intercontinental studies helping people with heart disease, hypertension and diabetes. Dr. Yusuf collaborates with peers in over 85 countries and his research findings change the way we prevent and combat cardiovascular disease. He is an officer of the Order of Canada, a member of the Royal Society and president-elect of the World Heart Federation.
Lou and Pauline (posthumous) Zamprogna
Lou and Pauline Zamprogna's creative spirit, tender encouragement and innate talent, helped introduce the joys of performing to thousands of Hamilton children. The young couple arrived in Hamilton in the mid-1970s, fresh from successful careers in London's West End. They established The Dance Centre on Sherman Avenue and it quickly became the go-to spot for superb dance training. Pauline, who passed away in 2013, became one of Canada's foremost ballet instructors.  For 40 years, Lou has run the School for the Performing Arts at Theatre Aquarius. There, children are trained in acting, singing, dance and theatrical productions. The annual end of School musical is one of the best shows in town.
Background on The Gallery of Distinction
The Hamilton Gallery of Distinction is a unique institution that exists to recognize and celebrate Hamilton's most distinguished citizens both past and present. In 1984, the Hamilton Gallery of Distinction was created under the stewardship of a volunteer board of directors. To date our community has celebrated the accomplishments of 189 (including 2014 inductees) outstanding individuals.
The portraits and biographies of all inductees along with this year's recipients are featured in the Gallery of Distinction display on the third floor of the Hamilton Central Library.
Nominations are received from the general public, and a panel representing the community is convened each year to select inductees.
More information: www.hamiltongalleryofdistinction.ca
Tickets to the Nov. 18 gala dinner are available by calling 905-522-1151 (ext. 100)