First Soup and Scholars features lively, informal discussion of Indigenous research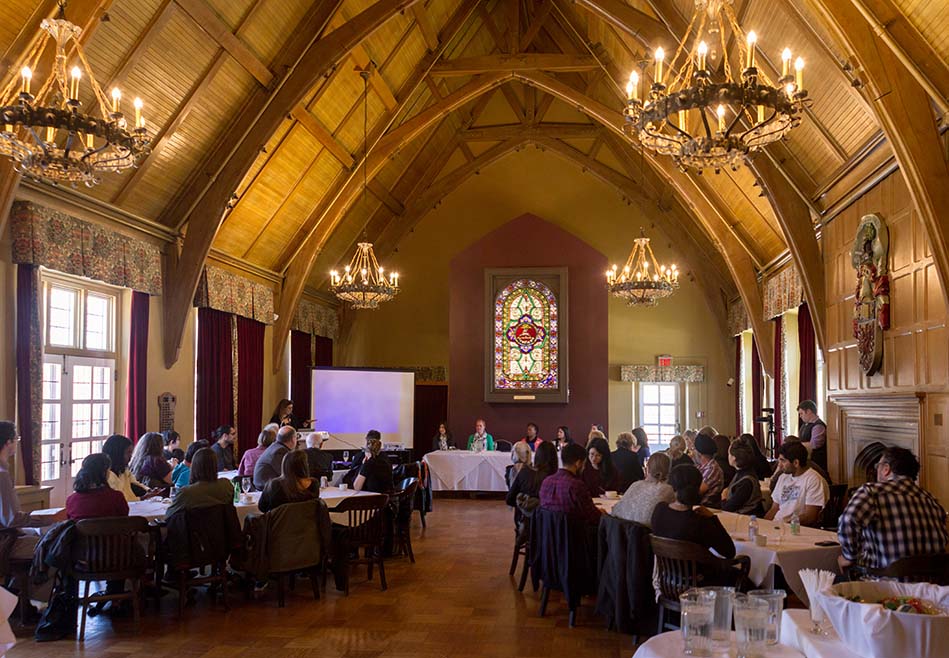 Panelists at the event talked about research on everything from cancer and water to the effects of Indigenous knowledge on well-being.
---
How can intergenerational communication improve the health of Indigenous communities? Can traditional knowledge be harnessed to protect water? What's the relationship between the health of the land and the health of the body?
These were just some of the questions discussed at the first Soup and Scholars event, which took place Monday at Alumni Memorial Hall.
The event, the first in a series of similar gatherings, was meant to be a lively discussion of some of McMaster's current and planned Indigenous research.
Panelists included Chelsea Gabel, director of the new McMaster Indigenous Research Institute, Dawn Martin-Hill, the Paul R. MacPherson Chair in Indigenous Studies, Vanessa Watts, director of the Indigenous Studies Program, the Indigenous Studies Program's Katherine Minich, Biology's Juliet Daniel and Health, Aging and Society's Jessica Pace.
The session was moderated by Allison Sekuler, Strategic Advisor to the President and Vice-Presidents on Academic Issues.
The next Soup and Scholars discussion will take place May 8 and will focus on water issues. It is free to attend and open to all.