Composting program debuts in Keyes residence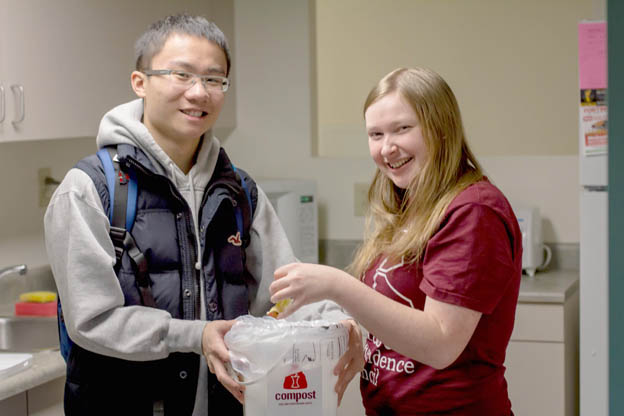 Photo Credit: Sarah Janes
Participating students will separate organic waste from the rest of their trash to divert landfill material.
---
Students living in the Mary E. Keyes residence building are launching a new composting program.
Initiated by Jeff Chan, a student working with the Office of Sustainability, the program focuses on suite-style apartments, where students do more of their own cooking. Those taking part in the pilot have committed to separating organic waste from the rest of their trash in an effort to divert such material from the landfill.
Chan, who's earning credit toward a Life Sciences course through his applied science placement, says the long-term goal is to expand the project to all residence buildings on campus. "I'm focusing on student engagement and feedback, and then hoping to move forward," he says.
"Composting can have a real impact on the total amount of trash we send to the landfill," says Kate Whalen, senior manager, University Sustainability. "This is a hands-on way to get students involved in sustainability, and it gets them thinking about their role in building a greener campus."
The residence program builds on a composting initiative already in place at the Union Market, Bridges Café, TwelvEighty, La Piazza and the Students Union's main office.
The pilot program is supported by Housing and Conference Services, Hospitality Services and BFI Canada.