Building a better business leader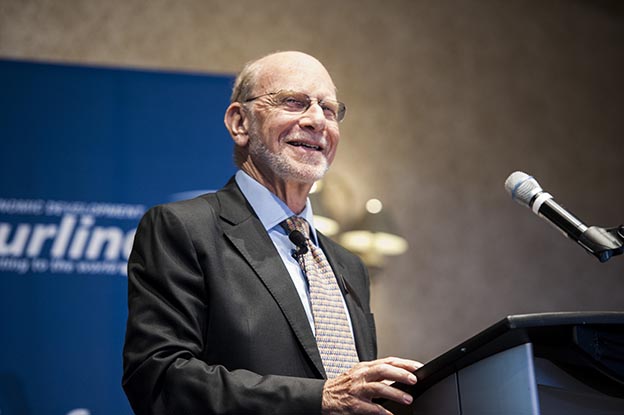 "We must ensure that our students – and your future employees – enter the workforce armed with knowledge that reflects what is emerging in the marketplace and society."
---
"We must ensure that our students – and your future employees – enter the workforce armed with knowledge that reflects what is emerging in the marketplace and society."
So said Len Waverman, dean of the DeGroote School of Business, to the Burlington business community last week. Waverman was the keynote speaker at the Mayor's Networking Luncheon held on Sept. 19.
Waverman has been exploring the topic of building a better business leader with industry, alumni and academics and has begun blogging and talking about how business schools must adapt to a changing business environment and support our communities' and country's needs.
Some of the dean's advice includes:
Embracing new technology and innovation.
Making business school curricula more comprehensive and multi-disciplinary.
Making MBA and executive programs more convenient for students.
Increasing the rate of successful commercialization by collaborating across the university and community to fill in the business gaps.
"When I came to the DeGroote School of Business in January I found myself at a research-intensive school that thinks innovatively about business education. As I've met with alumni and business leaders, I've been very impressed at how entrepreneurial and innovative the region is," said Waverman. "I'm looking forward to playing a role in helping to spur even more productivity and to graduate even better business leaders."
Waverman was the keynote speaker at the MAC Luncheon on Tuesday, Oct. 1. at the Hamilton Convention Centre. He discussed how technology and economies shift quickly and impact how we do business, and how leaders need to be prepared to analyze data, opportunities and risk in order to thrive in this rapidly changing environment.
To read more of Waverman's thoughts about how to build a better business leader and to join the discussion, visit the DeGroote School of Business.