B.Tech. alumni take unconventional route to grad school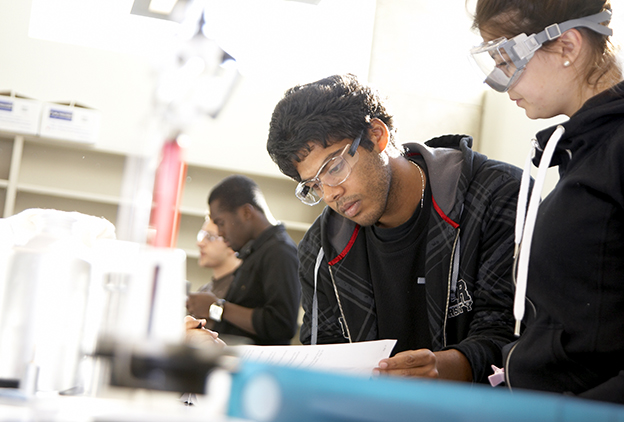 Their path to achieving a Master's degree has been challenging, but B.Tech. graduates are now pursuing further education all over the world.
---
This year, seven alumni from the Bachelor of Technology (B.Tech.) program are beginning graduate studies in engineering and business at prestigious universities around the globe.
Their path to higher education was unconventional, and not without challenges. The fact that B.Tech. alumni are pursuing graduate-level education in record numbers, however, is evidence that its college credit transfer system is working. Students are able to complete an undergraduate degree sooner, making graduate studies a more viable option.
A pioneer of the systemized credit transfers for college graduates, the program has been offering a university degree pathway since 1997. "Building on our success, we added additional streams of study in 2006 and now offer degree pathways to students from over 125 college programs in Ontario," says Executive Director Alan Murray.
For many students, the decision to purse a B.Tech. is career-oriented; aimed at increasing upward mobility within the engineering industry. According to Eu-Gene Ng, chair of the manufacturing program, it isn't until they've entered university that most students realize their potential to excel academically.
"They have been told since a young age that they are technical learners, and not suited to university level studies – especially research and theory. The program tries to turn this mentality on its head by giving students the tools to understand advanced research topics in engineering," says Ng.
Roberto Ribeiro wanted to begin a career in tool-making after high school, but soon realized that he wanted more than a purely-technical education. After completing an Advanced Diploma in Mechanical Engineering Technology from Conestoga College, Roberto entered the B.Tech. Manufacturing program and graduated from the degree program at the top of his class in just 24 months.
"The most beneficial aspect of the program was having great professors, who acted as my mentors," says Ribeiro, now at the University of Waterloo. Ribeiro has been awarded the President's Graduate Scholarship and Ontario Graduate Scholarship to complete a research-based master's of applied science (M.A.Sc.), and has plans to continue on with doctoral studies.
Conestoga College grad Tim Pollock and Mohawk College grad Aaron Gerlach (both alumni from the Manufacturing Engineering Technology program) are also beginning Master's programs (M.A.Sc. and M.Eng., respectively) in mechanical and mechatronics engineering at Waterloo.
According to Gerlach, the mix of engineering and management courses throughout the program was instrumental in his decision to pursue graduate studies. "B.Tech. gave me confidence that I am a capable technical professional and changed the way I think about various problems, from both a technical and business perspective."
Njegos Bjelic and Alen Topic were also accepted to a M.A.Sc. program at Waterloo in Mechanical Engineering, with a focus on Fire Safety Engineering.  Both Bjelic and Topic are alumni of Conestoga's Mechanical Engineering Technology diploma program, and the B.Tech. degree in Manufacturing.
Bjelic has always had an interest in researching the behavior of materials under the affects of fire, and was inspired and motivated by Ng to take this to the next level. "My co-op experience at Linamar also influenced me to move more towards this research topic. When I graduate, I plan to either work for a fire consulting firm or continue my studies at the Ph.D. level."
Further afield, Royston Rebello has begun a Master of Science (M.Sc.) in Management and Systems at New York University.  A former student of Mechanical Engineering Technology at Humber College, Royston was inspired by the management courses he took as a Manufacturing student. The program's management component taught him valuable business concepts and economic principles, laying the foundation for a career as a strategic development manager upon graduation from NYU.
Bella Nguyen has started a Master's of Philosophy in Engineering (M.Phil.) at the University of Cambridge in England. A graduate of Mohawk's Civil Engineering Technology diploma and the B.Tech. Civil Engineering Infrastructure Technology degree programs, Nguyen was motivated to pursue graduate studies overseas both by those who doubted her ability and also by those who fostered it.
"The professors taught me that learning is a lifelong experience, and the completion of B.Tech. is not the end of my education but rather the beginning. The experience has allowed me to dream one size bigger, not to sell myself short," adds Nguyen.  She hopes to continue on to complete a Master's in Business Administration.
To current or aspiring students interested in the program, Nguyen gives this message: "Nobody said this was going to be easy. It will take dedication and persistence, but in the end, it will be the best decision you will ever make."
Email btech@mcmaster.ca for more information.